Grilled Seafood
info
Grill Like a Pro: How to Cook Flounder in Foil [Step-by-Step Guide with Stats and Tips]
How to Cook Flounder in Foil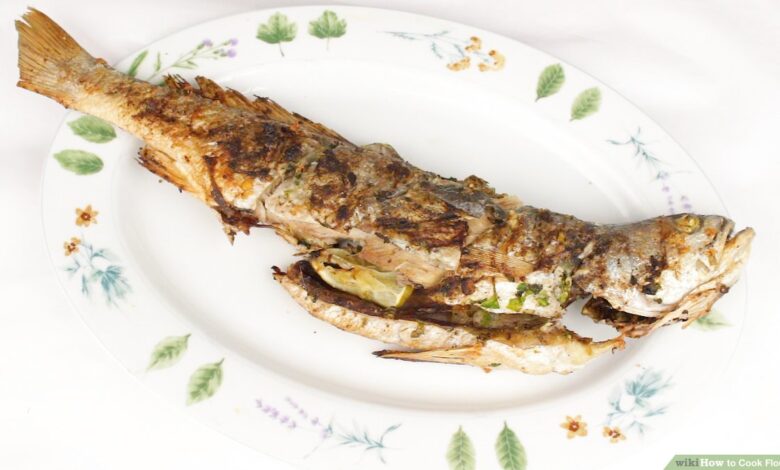 How to Cook Flounder in Foil
The short answer on how to cook flounder on the grill in foil: Place flounder fillets on a sheet of aluminum foil. Season with salt, pepper, garlic powder, and lemon juice. Add butter and chopped vegetables. Fold the foil to create a packet and grill for 8-10 minutes over medium heat until the fish is cooked.
Step-by-Step Process: How to Cook Flounder on the Grill in Foil
Flounder is a delicious and delicate fish that produces an exquisite flavor on the grill. But cooking it on the grill in foil can be a trick to master. That's why we've put together this step-by-step guide, so you too can enjoy perfectly grilled flounder every time!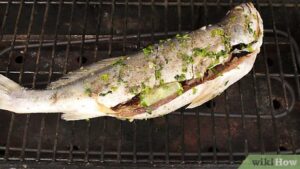 Step 1: Clean and Prepare Your Flounder
The first step to grilling any fish is to ensure it's clean and properly prepared. Start by removing any remaining scales and guts from your flounder. Rinse it thoroughly under cold running water and pat dry with a paper towel.
Step 2: Season Your Flounder
Take your favorite herbs or seasonings for seafood – garlic, dill, or thyme- are excellent choices! Rub them onto both sides of the fish. Place sliced lemons on top of the fillet skin-side down.
Step 3: Preheat Your Grill
Preheat your grill over medium heat for approximately five minutes before cooking.
Step 4: Prepare Your Foil
Cut a piece of aluminum foil big enough to hold your flounder and fold it in half like a book. You want it long enough to wrap around your fillet comfortably without leaving gaps at either end.
Place lemon slices where you will place the flounder, then place the seasoned or marinated flounder, skin side down, on top of them. Fold up edges slightly so juices don't leak during grilling. If using thinner filets, creating a "pouch" while wrapping helps keep them together while grilling!
Step 5: Cook Your Flounder
Your grill should be preheated now; if not, give it another minute. Place your foil-wrapped flounders on the grate in direct heat with Indirect flames underneath (outer part more than inner part) depending on thickness; thicker pocketed fillets would require some extra time, but turn carefully halfway into the estimated time.
For a ½ inch flounder fillet, cook on the grill for around 8 minutes. If your fillet is thicker, add a few more minutes until thoroughly cooked.
Step 6: Serve Your Grilled Flounder
Once your grilled flounder fillets are done and removed from the foil, serve hot! Pair this delicious dish with a vegetable or salad that will compliment the dish beautifully!
Getting a perfectly grilled flounder takes practice, so note these steps every time you prepare it. With patience and guidance, you'll soon have mastered grilling this delectable fish within no time. Enjoy!
Frequently Asked Questions about Cooking Flounder on the Grill in Foil
Cooking fish on the grill is always a bit of a challenge, but when it comes to floundering, things can seem even more daunting. This delicate, flavorful fish requires some special handling if you want to get the best results. Fortunately, cooking flounder on the grill in foil is one of the easiest and most foolproof methods. To help you navigate this process quickly, here are answers to some of the most frequently asked questions about cooking flounder on the grill in foil.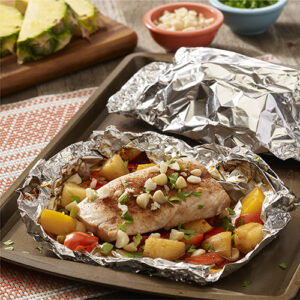 Q: Why should I cook flounder in foil?
Flounder is a delicate fish that can easily fall apart when cooked on an open flame. Cooking it in foil protects it from direct heat and helps keep it moist and tender.
Q: What kind of foil should I use?
Heavy-duty aluminum foil works best for grilling fish. It's sturdy enough to hold up to high heat and won't tear or puncture as easily as regular aluminum foil.
Yes! A simple seasoning of salt, pepper, and lemon juice will bring out the flavors of this mild-tasting fish. You can add other herbs and spices, like garlic powder or parsley, for an extra flavor.
Q: How do I prepare my foil packets?
Tear off 12-14 inch pieces of heavy-duty aluminum foil and fold them in half lengthwise. Place your seasoned flounder fillets on one half of each foil, then fold over the other half so both sides meet at the edges. Fold each open edge twice to create a tight seal around your packet.
Grill your packets over medium-high heat for 8-10 minutes per side or until the flesh is opaque and flakes easily with a fork.
Q: Can I add other ingredients to my foil packets?
Absolutely! Flounder pairs well with various vegetables like carrots, asparagus, and zucchini. You can also add sliced lemons or other citrus fruits for an extra flavor.
Grilled flounder pairs perfectly with light sides like couscous or quinoa salads. You can also serve it alongside fresh green beans or roasted root vegetables for a more substantial meal.
By following these simple tips and tricks, you'll quickly grill the perfect flounder. Whether cooking this delicious fish for a summer BBQ or just looking for a healthy weeknight dinner option, examining it in foil is easy and foolproof. So fire up that grill and get ready to enjoy some mouth-watering seafood!
Mastering The Art of Grilling Flounder using Foil: Tips & Tricks
Grilling flounder can be a tricky task for many home cooks. The delicate texture of this fish and its tendency to stick to the grill grates make it challenging to cook properly. However, there's a foolproof way to get perfect grilled flounder every time using a straightforward ingredient you already have in your kitchen: foil.
Here are some tips and tricks for mastering the art of grilling flounder using foil:
– Use heavy-duty aluminum foil: Regular aluminum foil is too thin and prone to ripping when exposed to heat. On the other hand, heavy-duty aluminum foil is thick enough to withstand high temperatures without tearing or puncturing.
– Preheat your grill: Flounder must be cooked quickly over high heat. Preheat your grill on high for at least 10 minutes before cooking to ensure even cooking.
– Season your fish well: Flounder is known for its mild flavor, so it's important to season it properly. Brush each fillet with olive oil and sprinkle with a pinch of sea salt and black pepper before wrapping in foil.
– Double wrap your fish: To prevent sticking and ensure even cooking, double wrap your fish in heavy-duty aluminum foil. Ensure the edges are tightly sealed so steam doesn't escape during cooking.
– Add flavor while cooking: One of the best things about grilling with foil is infusing additional flavors into your dish. Add fresh herbs such as rosemary or thyme and lemon slices inside each packet before sealing them tightly.
– Cook over indirect heat: Avoid direct flame contact when cooking flounder by placing the wrapped packets on indirect heat areas of your grill. This will allow for gentle, even cooking without overcooking or drying out the fish.
– Check for doneness: Depending on the thickness of your fillets, they should take 5-10 minutes to cook thoroughly through in the foil packets. Check on the fish by carefully opening one box and testing to see if the thickest part of the fillet is opaque and flaky.
Mastering the art of grilling flounder using foil is easy and yields delicious results every time. Follow these tips and tricks, experiment with different seasonings and flavor combinations, and enjoy your perfectly grilled flounder!
Top 5 Facts You Need To Know About Cooking Flounder on the Grill in Foil
Flounder, the flatfish commonly found in shallow coastal waters, can be a delicious addition to your BBQ menu. Once you have mastered the art of grilling flounder on the grill in foil, you will earn yourself accolades from your family and friends for the most delicious fish preparation on the block. Here are 5 facts you need to know about cooking flounder on the grill in foil: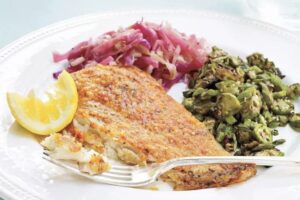 1) Choose Fresh Flounder: One of the critical elements in preparing a tasty grilled flounder is choosing fresh fish. When buying whole or filleted fish, look for shiny skin with transparent and lustrous eyes. The flesh should also be firm to the touch with no slimy residue or off smell.
2) Use Foil: Grilled flounder must be cooked evenly without drying out, so foil is essential. Ensure you use enough aluminum foil to wrap around your fillet and seal it well, keeping all juices and flavors inside for the best results.
3) Don't Overcook: The biggest mistake people make when cooking seafood on a fire grill is overcooking it. Pull off the heat sooner than expected to avoid this because the food will continue cooking as it rests inside its sealed packet.
4) Seasoning Makes All The Difference: While grilling flounder requires minimal seasoning due to its delicate flavor profile, quality ingredients such as fresh lemon juice herbs like thyme and rosemary create exceptional depth of flavor.
5) Clean Your Grill Before Cooking: Clean your grill before placing any delicate fish, such as Flounder, over the heat source. This prevents ugly sticking frustration during removal or tearing apart during the rotation, which can make serving less appetizing.
Grilling up flavorful Flounder straight from your backyard has never been easier! By following these tips along with taking simple measures such as monitoring grill temperatures (medium-high heat works best), marinating fillets with a moist sauce, or backing against a cutting element such as lemon juice to keep the flesh from drying out during cooking, you'll have your guests or family members clamoring for seconds in no time. Make sure to share the recipe or tips with other foodies out there!
Add Flavor and Texture to Your Fish Dish: Grilling Flounder in Foil Made Easy
If you're a seafood lover, you know the importance of flavor and texture in your fish dishes. Grilling is an excellent way to cook fish; it locks in moisture while adding a smoky taste. However, grilling can be tricky for delicate fish like flounder; they are prone to sticking and breaking apart on the grill. But worry not; we have a solution for you- grilling flounder in foil!
Grilling flounder in foil may seem daunting at first, but it's straightforward and straightforward once you get the hang of it. To start with, preheat your grill to medium-high heat. While the grill heats up, lay out foil sheets large enough to wrap around each piece of fish individually.
Now comes the fun part – adding flavors and textures. Fresh herbs like thyme or rosemary and spices like paprika and chili powder work well with flounder. Add these seasonings generously over each fillet or customize them according to your taste buds' preferences.
Moving on to textures – add sliced onions, thin lemon wedges, or diced bell peppers atop the seasoned fish, as this will give a crunchier and juicier feel, plus acidity that blends perfectly with fish flavors.
Add a small pad of butter or drizzle olive oil over each fillet before sealing them into their "pockets." Doing this will ensure that your fish retains its moisture and won't stick on the grill because if we let our dear Flounder dry up or break down, where is all that added flavor? Transfer them onto the grill racks once sealed inside their packets via foil wrapping.
Allowing about ten minutes before opening flapped ends and allowing steam pressure release ensures they are evenly cooked (making more petite filets would mean shorter cooking time). Post-opening packets open air-grill for another 1-2 min on both sides, ensuring tender skin for those who like crispy grilled fish skin.
When you're done grilling, carefully peel away the foil, and voila! You have a perfectly cooked flounder dish infused with flavor and texture while holding onto its original delicate fish taste.
So next time you're searching for the perfect seafood dish, try out our grilling flounder in foil trickIt will give your taste buds something to cheer about and put. It's an easy recipe quick enough for any midweek or weekend meal when you only want some freshly grilled seafood without doing too much in the kitchen!
Healthy and Delicious: How to Cook Flounder On The Grill In Foil Without Any Fuss
Flounder is a delicate and delicious fish that is perfect for grilling. However, getting the ideal cook can sometimes be tricky without overcooking or undercooking it. This is where cooking your flounder on the grill in foil comes in handy. Not only does it keep your fish moist and flavorful, but it also eliminates any mess and clean-up.
First things first, preheat your grill to medium heat. While waiting for the grill to heat up, you must prepare your foil packet. This cooking method works best if you have a double layer of heavy-duty aluminum foil big enough to encase your fish thoroughly.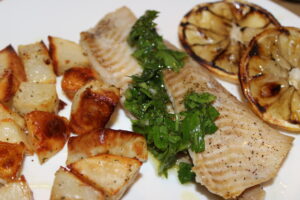 In the center of the foil packet, place your flounder fillet(s) seasoned with salt and pepper, some thinly sliced lemon wedges, and fresh herbs or garlic if desired. Then close up the foil packet by bringing together opposite sides and ensuring they're tightly closed.
Make sure to spray or oil the surface of the foil facing up (so that the flounder doesn't stick). Once preheated, place your wrapped fillets directly onto a lightly greased grate on top of your heated grill rack, taking care not to puncture the foil (you don't want any juices leaking out).
Close down the lid and let them cook for around 8-10 minutes until cooked through, depending on thickness(alternatively, you can check with a fork or knife before removing them from heat). During this time, resist peeking inside – opening too often will let out valuable heat, which prolongs cooking time- so maintain patience!
Once done, remove them carefully from the grill using gloves or tongs – remember there's steam trapped inside; beware of hot escaping air- and serve them while warm with garnishes such as lots of freshly chopped parsley plus simple sides like roasted veggies or crisped potatoes.
This recipe practically guarantees juicy fillets with bright flavors ready in no time without the need for potentially messy and complex pan-searing or frying. Using this simple method of foil-packing, any cook can easily create healthy yet delicious flounder while also showcasing their stunning grilling skills.
Table with Useful Data:
| Ingredients: | Instructions: |
| --- | --- |
| 1 lb flounder fillets | 1. Preheat the grill to medium-high heat. |
| 1/4 cup olive oil | 2. Brush olive oil on both sides of the flounder fillets. |
| 2 cloves garlic, minced | 3. Sprinkle minced garlic over the flounder fillets. |
| 1 lemon, sliced | 4. Layer the lemon slices on top of the flounder fillets. |
| 1/4 cup fresh parsley, chopped | 5. Sprinkle chopped parsley over the lemon slices. |
| Salt and pepper to taste | 6. Season with salt and pepper to taste. |
| Aluminum foil | 7. Wrap the flounder fillets in aluminum foil, completely sealing the edges. |
| | 8. Place the foil-wrapped flounder fillets on the grill and cook for 10-12 minutes or until the fish is cooked. |
| | 9. Serve hot, and enjoy! |
Information from an Expert: If you're looking for a simple yet delicious way to prepare flounder on the grill, cooking it in foil is the perfect solution. Season the fish with salt, pepper, and favorite herbs or spices. Then, wrap it tightly in aluminum foil and place it on a preheated grill over medium-high heat for 10-15 minutes. The result will be a perfectly cooked flounder that is moist and tender with a subtle smoky flavor. Additionally, using foil makes clean-up quick and easy!
Historical fact:
Although grilling fish in foil has become a popular modern cooking method, it is believed that early civilizations such as the Inca and indigenous peoples of North America were already cooking fish in leaves or bark long before aluminum foil was invented.